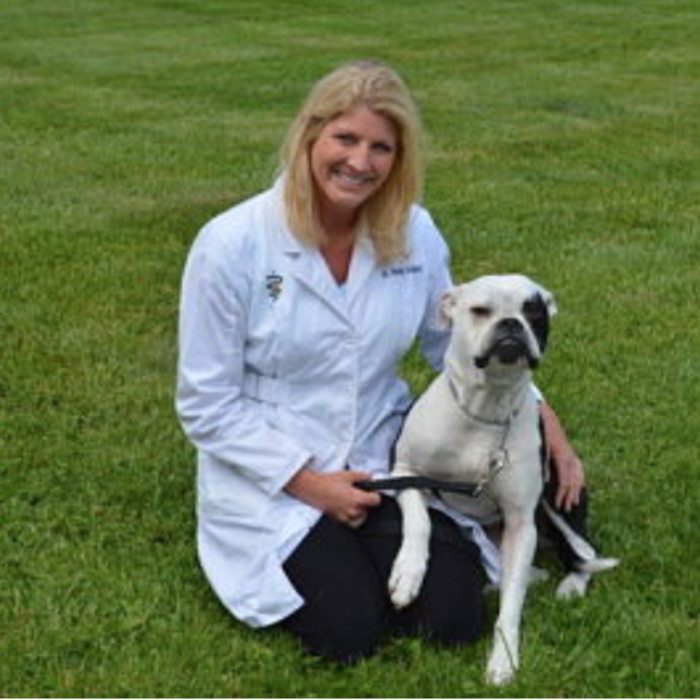 Wendy J. Woodard
DVM
Dr. Wendy Woodard grew up on a farm in Grand Ledge, Michigan, where she was surrounded by dogs, cats, rabbits, horses, chickens, and ducks. Her grandfather is a physician, so she was exposed to the medical field early on in life. For Dr. Woodard, a career as a veterinarian was the perfect combination of her love for science, her fascination with medicine, and her adoration of animals!
After showing horses in the 4-H program and helping her biology teacher on his pig farm during high school, Dr. Woodard attended Michigan State University to receive both her undergraduate degree and her Doctorate of Veterinary Medicine. She graduated in 1993, then began practicing at a companion-animal and equine practice in Metamora. In 1996, Dr. Woodard moved to Frankenmuth and worked part-time in a companion-animal facility before joining the Mayfair Animal Hospital family in 2011.
Dr. Woodard took over ownership duties of the clinic in 2015. She's particularly fond of diagnostics, and never tires of putting together a patient's puzzle pieces to arrive at a treatment plan and resolution. Dr. Woodard also likes the variety that her work brings; every day offers something new and exciting!
In her time away from the clinic, Dr. Woodard enjoys gardening, golfing, biking, waterskiing, downhill skiing in Colorado with her family and friends, cheering on the Michigan State football team, and hiking around the area with her dogs. She has four canine companions: Maddie is a yellow Lab who thinks it's her job to pull large rocks from the bottom of the lake; chocolate Lab Jake was rescued from Mayfair Animal Hospital in 2012; Meg is a high-energy Jack Russell terrier who has something to say about everything; and Sam is a mixed-breed pooch who comes to work with Dr. Woodard nearly every day.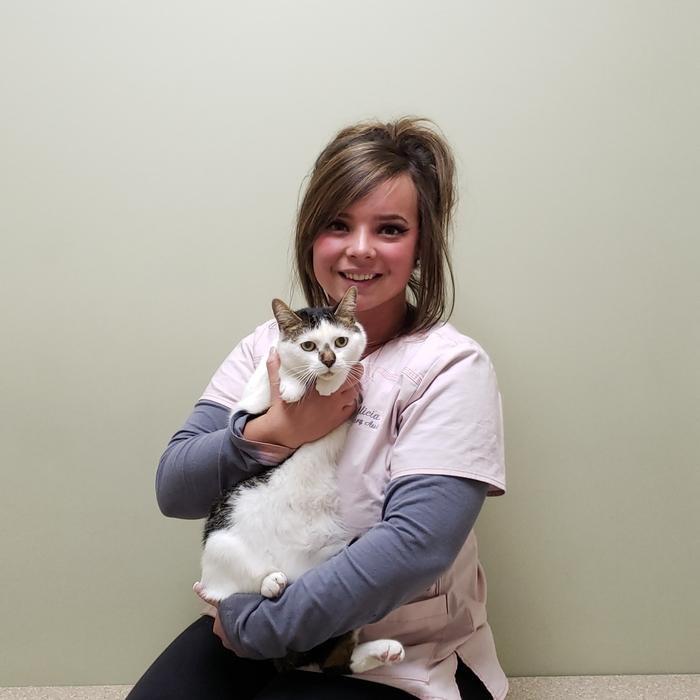 Alicia
Veterinary Assistant
Alicia has had an interest in medicine for as long as she can remember, and even holds a certification in nursing. When she was offered a job at Mayfair Animal Hospital—where she had taken her own pets before she was an employee—she couldn't turn down the opportunity! Now, Alicia impacts pets' lives for the better every day as a Veterinary Assistant with the Mayfair Animal Hospital team.
Alicia joined the hospital family in December of 2015 and has particular interests in performing blood draws and examining samples under the microscope. Most of all, she loves greeting the clientele and pets who visit the hospital and being a firsthand witness to the incredible bonds between humans and animals.
In her time away from work, Alicia enjoys painting and drawing, spending time with her friends and boyfriend, and tending to the needs of her own pets at home. Her family lives with an American bulldog/pit bull mix; a rat terrier mix; an elderly cat who is the true queen of the house; and a calico cat who enjoys sitting on paper to claim it as her own.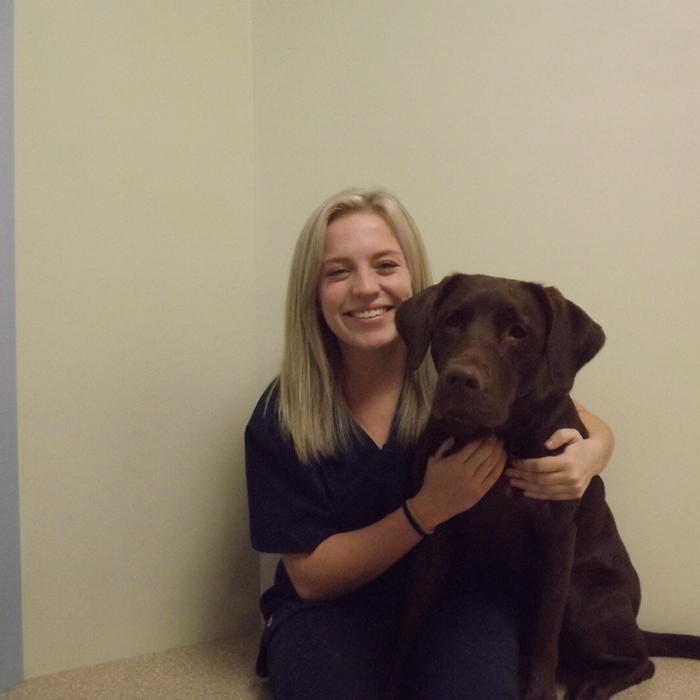 Kassidy Hospital Assistant
I have a dog named Paislee and a kitty named Salem. Both babies go pretty much everywhere that I do. Since I was little, my specialty has been finding stray animals and bringing them home. When I was 7, I brought home a baby opposum that I thought was a stray kitten - HA! I spend my free time with my family and my pets. I play the electric and acoustic guitar as well as the piano. My favorite thing to do is to go to concerts! I plan on staying in the veterinary field and one day opening my own doggy day care/kennel. Previously I enjoyed working at Disney World's pet care facility in FL.
Amanda
Licensed Veterinary Technician
Team Leader
Upon graduating high school, Amanda received one of the best presents she's ever gotten: a spunky pit bull puppy. Caring for her new pet made one thing very clear to Amanda: for her, a career in the world of animal medicine was simply the perfect choice. She hasn't looked back since, and is now a Team Leader and Licensed Veterinary Technician here at Mayfair Animal Hospital!
Amanda is originally from Otisville, Michigan, and enrolled in the veterinary technology program at Baker College of Flint in 2002. She first joined the clinic team in 2003 and explored other opportunities briefly (including working with goats, alpacas, kangaroos, and even a three-toed sloth!) before returning to where she felt most comfortable: Mayfair Animal Hospital.
At home, Amanda lives with her husband, their son Wyatt, and a menagerie of pets. The family has four cats—Star, Decon, Mickie, and Minnie—as well as three rescued pit bull terriers who go by Sadie, Diesel, and Doodle. The newest addition to the fur-family is Betty Big Ears, a loveable bloodhound puppy.
When time permits between work and family life, Amanda enjoys mud-bogging with her husband in their truck. She never tires of the thrill and adrenaline the sport brings; some of her dogs have even enjoyed a ride or two!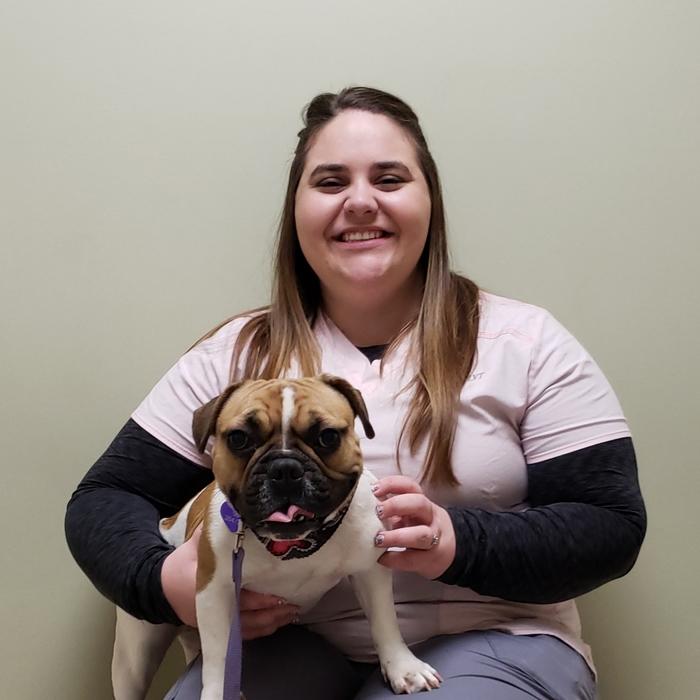 Jourdan
Licensed Veterinary Technician
As a child growing up in Saginaw, Michigan, Jourdan always promised anyone who would listen that she would one day work in the veterinary profession. She's been passionate about animal care ever since she can remember! Jourdan is proud to help the pets and families of Flint as a member of the Mayfair Animal Hospital team.
Jourdan completed her Veterinary Technician program in August of 2017 and now has the title of Licensed Veterinary Technician! Jourdan joined the Mayfair Animal Hospital family in May of 2016 to supplement her studies with hands-on experience in the field and has been serving the area's pets and animal owners here ever since. She's found that she is particularly fond of helping to monitor pets during surgical procedures.
At home, Jourdan and her husband live with their wonderful daughter, Trystyn, as well as several lovable pets. The family shares their lives with three spunky dogs—Harley, Elliott, and Jack—as well as a trio of cats, named Oliver, Stella, and Noel.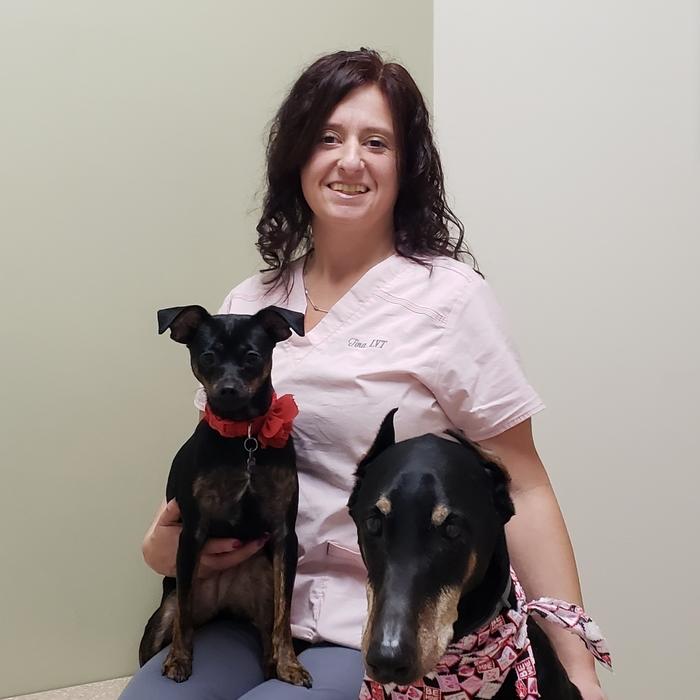 Tina
Licensed Veterinary Technician
Growing up in Rockford, Illinois, Tina was surrounded by animals from day one—her mother was constantly taking in stray pets or wildlife that needed help. Tina has felt an intrinsic connection with animals for as long as she can remember! Now, she's proud to serve pets and their owners daily as a Licensed Veterinary Technician.
After working several years in sales and finance, Tina moved to Michigan in 2002 and decided it was time to pursue her lifelong passion: animals. She signed up at a local college to study veterinary technology and started working in clinics as a Licensed Technician after graduation. In late 2015, Tina joined the team here at Mayfair Animal Hospital, where she particularly enjoys educating pet owners on preventative healthcare and enjoying the company of adorable puppies and kittens.
When she has time between work and her Master's degree studies, Tina likes reading, traveling, and spending time with her daughter, Madeline. The family shares their home with Jessie, a mixed-breed dog; a Doberman named Trigger; and three cats named Minnie, Leo, and Whisper.
Lauren
Licensed Veterinary Technician
Lauren has been around veterinary medicine for her entire life—Dr. Wendy Woodard is her mother! For Lauren, it wasn't difficult to develop a passion for animal care early on. Now, she's excited to jumpstart her pet-care journey as a Veterinary Assistant with the Mayfair Animal Hospital family.
Lauren is a Frankenmuth native and interned at a veterinary clinic there before joining the Mayfair Animal Hospital team in May of 2017. Lauren graduated from Baker College in May of 2019. She has earned her Associate's Degree in Applied Science with a major in Veterinary Technology. Lauren loves working with rescues and enjoys being a part of animals recovery process. Lauren has two pets. A long-haired Siamese mix named Coconut and a Boston Terrier named Fenway.She loves to learn something new every single day, and her favorite part of the work is getting to see happy dogs and cats after successful treatments.
In her free time, Lauren enjoys traveling and exploring northern Michigan when she gets the chance.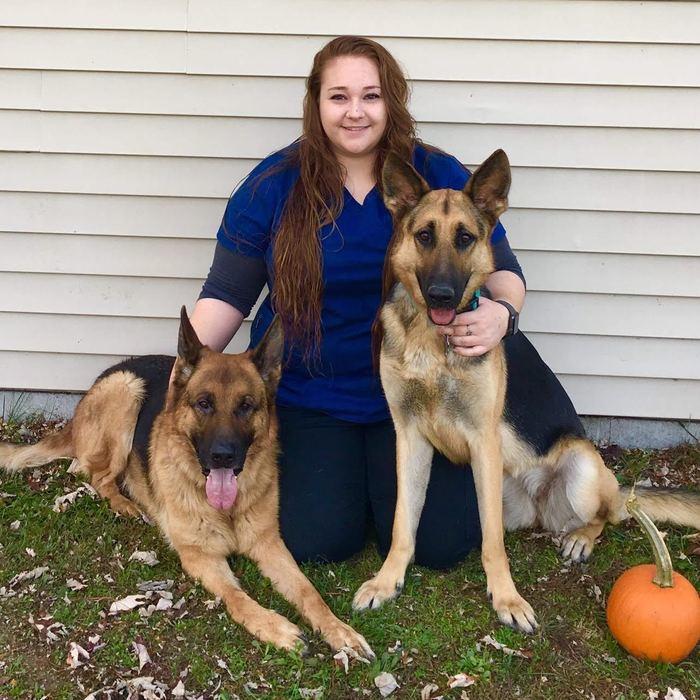 MiKayla
Licensed Veterinary Technician
MiKayla grew up on a small farm in Midland, Michigan, where her family kept everything from dogs, cats, and rabbits to horses, goats, chickens, and pigs. Helping animals to live happier, healthier lives has been a part of MiKayla's nature ever since her earliest days, and she simply can't imagine doing anything else! She's now a proud member of Mayfair Animal Hospital's Veterinary Technician team.
MiKayla attended Baker College of Flint as a member of the Veterinary Technology program. When she needed to complete internship hours to supplement her coursework, she found herself here at Mayfair Animal Hospital—MiKayla has been a member of the clinic team ever since! Her favorite part of her job is getting to help pets daily alongside a team of talented and dedicated animal-lovers just like herself.
In her free time, MiKayla loves to read, go off-roading, and enjoy the company of her family and pets at home. She and her fiancé, Keith, live in Mount Morris with their three beloved dogs: Diesel, Ranger, and Rebel.