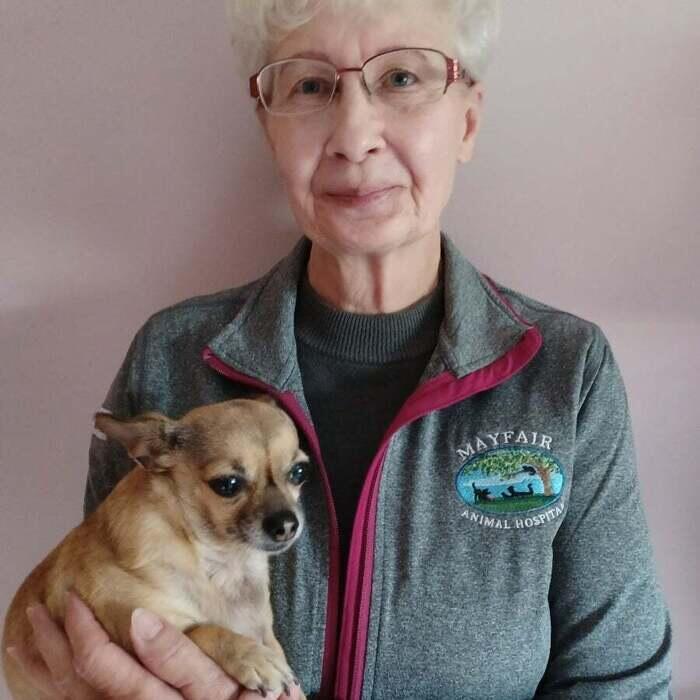 Vicki Licensed Veterinary Technician
Vicki is a 1994 graduate of Macomb Community Veterinary Technician Program.
She returned to Macomb Community College where she taught the Veterinary Technician Program for a number of years, which is a passion of hers-teaching.
Along with her passion for helping dogs, cats and wildlife, birds intrigue her. She began a rescue for unwanted household birds and helped many injured wild birds back to mother nature's home.
She joined Mayfair in March 2021 and absolutely loves it here. She enjoyed working with a staff of dedicated veterinarians, veterinary technicians, awesome veterinary assistants and receptionists committed to animal care.
She resides in Dryden, Michigan with her husband of 40 years along with 2 Chihuahuas (Bandito and Martina), a terrier mix (Rusty), 2 cats (Smokey and Black Magic) and an African Grey Parrott (Seegar).
In her spare time she loves camping, hiking, biking, gardening and anywhere the outdoors can take her.
Brice Veterinary Assistant/Receptionist
My name is Brice, my colleagues and close friends call me Bri. I was born and raised here in Michigan. I am a veterinary assistant/receptionist here at Mayfair Animal Hospital. I started my journey here at Mayfair in March of 2022. I came to Mayfair seeking more knowledge of small animal medicine.
About me currently i'm enrolled in Ashworth College studying for my Associates Degree in Veterinary Technology. I have always felt deeply compelled to save sick and injured animals. The feeling to care for animals in need has only continued to grow. I do like to consider myself a jack of many trades including; experience grooming dogs and cats, many years of volunteering at humane societies throughout the county, and studying animal behavior.
In my free time I love spending time with my son Princeton and all of his furry siblings. Furthermore, I enjoy tubing or kayaking down the river, cooking, cross country road trips, and share interest in cosmetology. I have quite the zoo at home including 4 dogs; Mr. Boo (Yorkshire Terrier), Meica (Chihuahua), Poison Ivy (Rottweiler), and finally Sequoia (Rottweiler). 2 kitty cats; Guava a 10 wk. old DLH and Wisteria a 2 yr. old DSH. 3 bunny rabbits, a flock of chickens, and many aquariums filled with fun aquatic creatures. I have a full house and a full heart. I can't wait to care for your loved ones!